Campus Recreation
With a robust Campus Recreation program, exceptional facilities and numerous chances to get involved, you have loads of options to get moving. We offer dozens of special events and tournaments each semester, a full slate of intramural programming, 13 sport clubs, an extensive catalog of rental equipment and so much more.
Explore below and learn about our facilities, our friendly staff, student employment opportunities and more!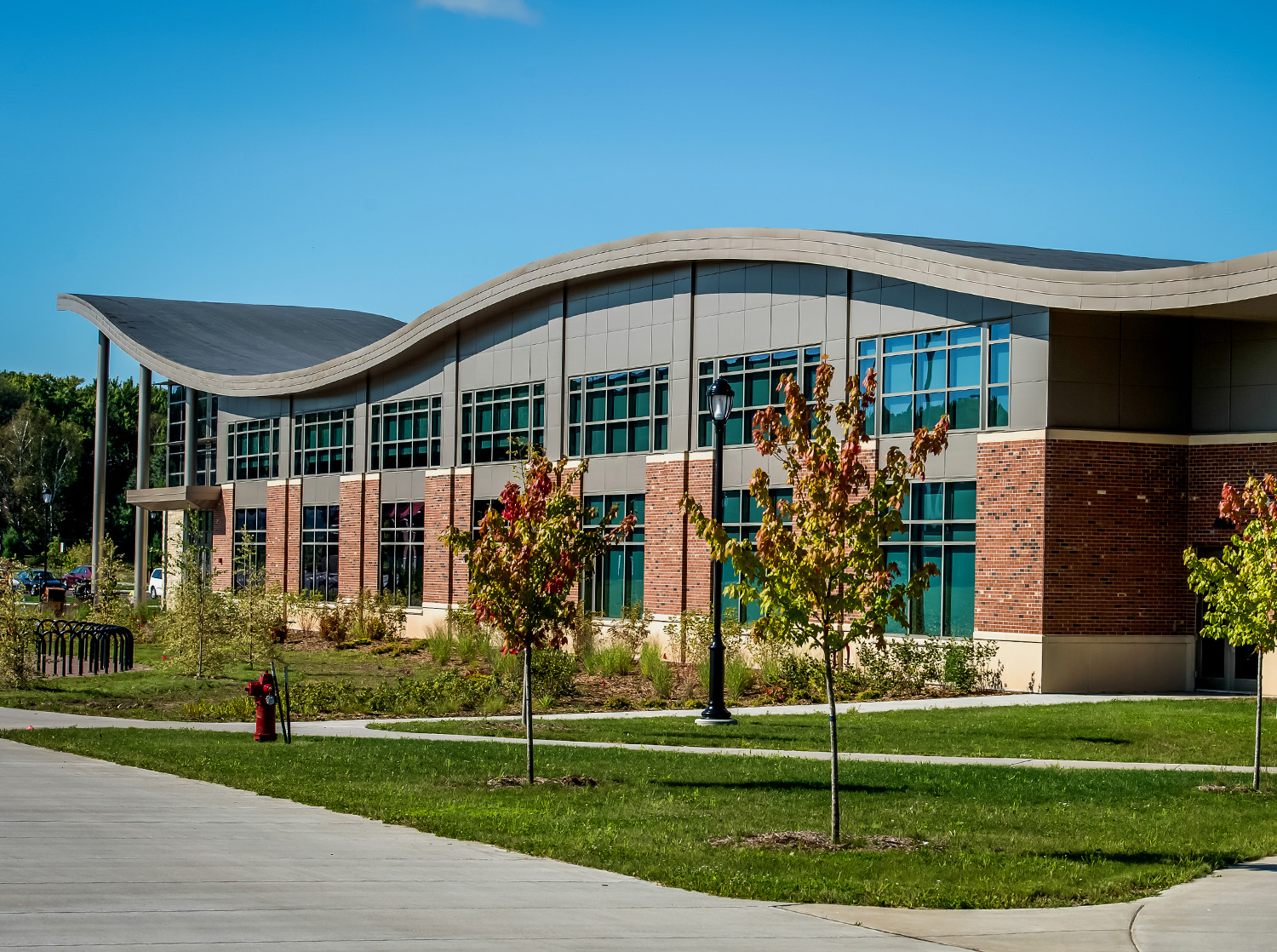 Falcons, Join Our Team!
Campus Recreation offers a substantial student employment program. With positions ranging from intramural supervisors to group fitness instructors to skate school instructors, there's something for everyone. Learn more about student employment opportunities here.
"Working for Campus Recreation has been one, if not the best, parts of my college career. I have made lifelong friendships and have had so much personal growth. I will never forget all of the memories I have made working at the Fitness Center, Hunt Arena, and Knowles." - Campus Rec Staff Member, 2020-21
---
Our Facilities
The Falcon Center, a NIRSA Outstanding Sports Facility, offers a variety of different spaces that can accommodate all types of groups, functions, gatherings, practices, tournaments, classes and more. For more information about the different Falcon Center venues, please see below. To reserve a facility, visit here. 
Located in the southeast corner of the Falcon Center adjacent to Karges Gym and Falcon Outdoor Adventures, our Fitness Center spans 15,000 square feet and features 60+ pieces of cardio equipment and selectorized machines.  There is also three separate rig systems for free weight and plate-loaded strength training.
The Fitness Center is included in the cost of tuition for all UWRF students enrolled in at least eight credits. Memberships are available to students with fewer than eight credits, faculty/staff, alumni, and community members. Click the button to learn more.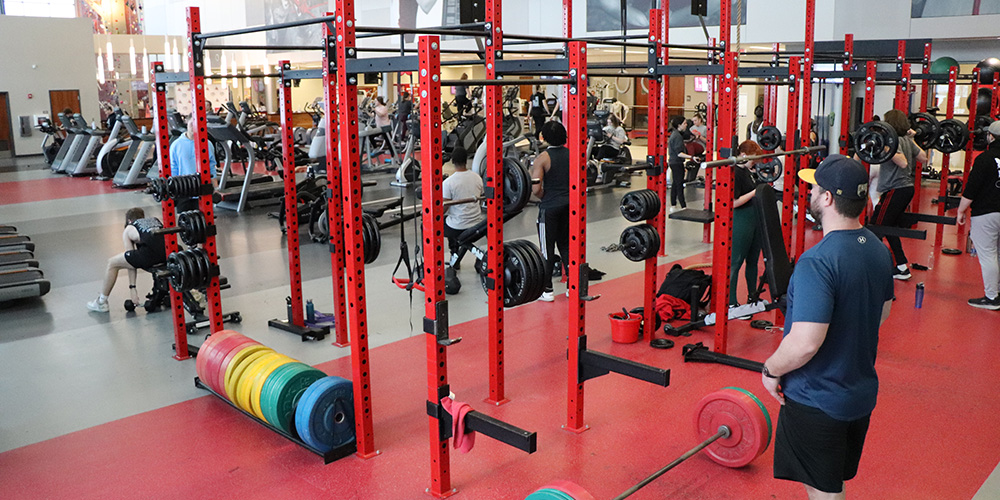 Operated by Falcon Outdoor Adventures, the 38-foot climbing wall and 13-foot bouldering wall include interchangeable routes, top-rope climbing, lead-climbing, two auto-belay devices, and overhand elements.
The use of the wall is included for students with eight or more credits, in the Falcon Center memberships, or by purchasing a day pass. The bouldering wall is open anytime the fitness center is open. The top-rope wall opens at night when staffing is available. 
Interested in hosting a birthday or bringing your group to the Indoor Climbing Gym for team-building? FOA can help! Click the button for more information including the hours of operation, memberships, and FAQs.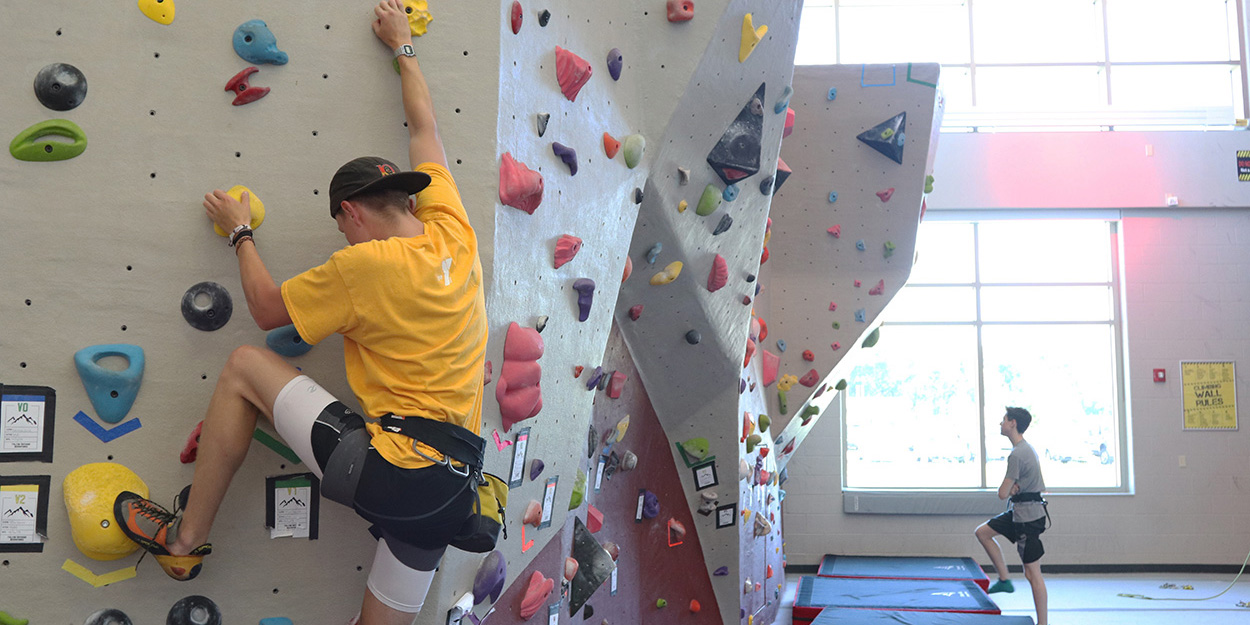 The Falcon Center is home to three multi-purpose studios ranging from 1,000-2,000 square feet. The large and medium rooms feature hardwood flooring while the small studio has a synthetic floor. The large and medium rooms are available by reservation. The small studio, when not reserved for a cycling class, is open for members to use. The small studio has some light free-weights, yoga mats, exercise balls, and a heavy bag.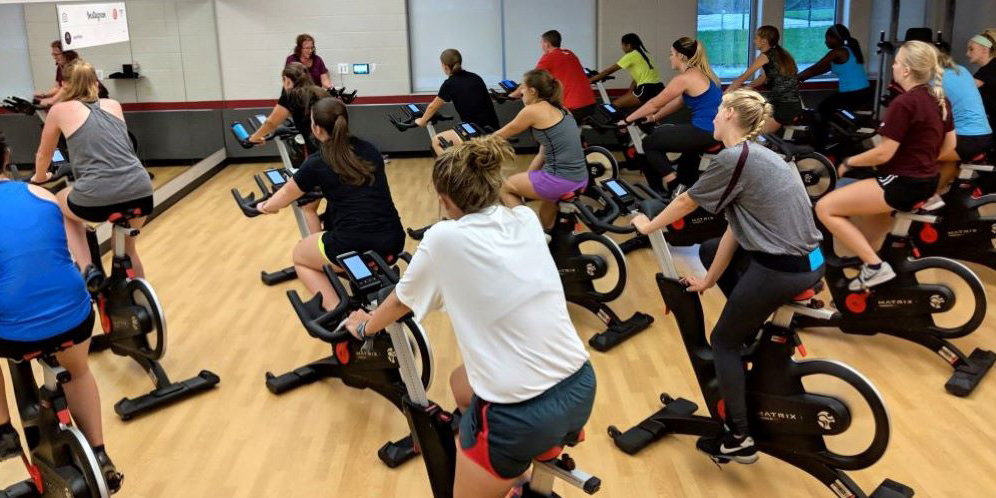 Hunt Arena features an 85'x200' ice sheet used by Campus Recreation for open skate four times per week as well as open stick and puck and open hockey once per week. On weekends, Hunt Arena Skate School uses the rink for our learn-to-skate program. Possibly the most popular use for Campus Recreation is our late night intramural broomball competitions. 
Hunt Arena is also home to the men's and women's varsity hockey teams, numerous local youth hockey association practices and competitions, and birthday parties or other private reservations. Hunt Arena seats 1,400 spectators and with four visiting team locker rooms to go along with two dedicated locker rooms for the Falcon Men's and Women's hockey teams.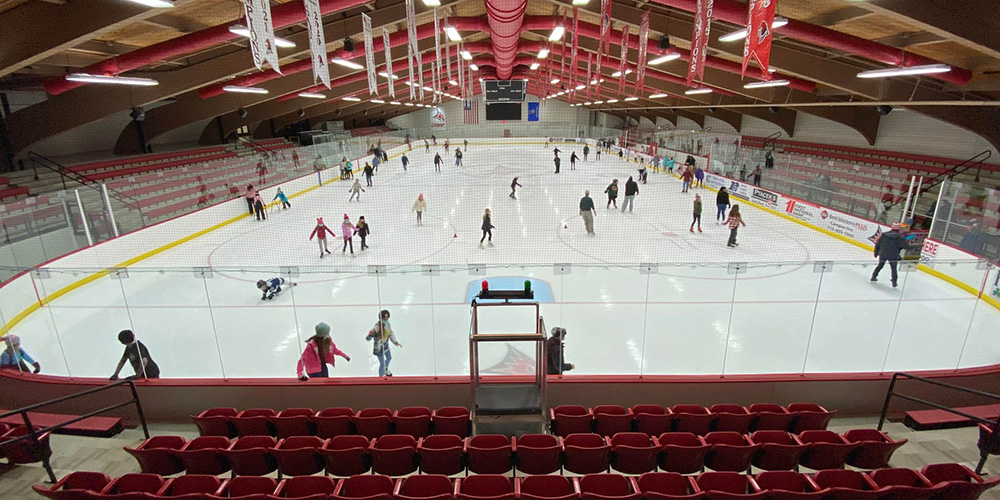 Named for a former chemistry professor and vice president of River Falls State Teachers College, the original R.A. Karges Center was razed in 2018 to coincide with the completion of the Falcon Center. The new Karges Auxiliary Gym is located in the Falcon Center and is adjacent to the Fitness Center. Equipped with two full size basketball courts, as well as badminton and volleyball courts, Karges is able to accommodate a variety of different events.

Named for a pair of Falcon Athletics legends, Don Page Arena and Rick Bowen Court are the home of Falcon basketball and volleyball. Located across the concourse from Hunt Arena, the arena features volleyball and basketball, visiting and officials' locker rooms.

A hub of activity, the Robert P. Knowles Field House houses a 6-lane, 200-meter competition track, long jump put, throw cage, batting cages, four full-size basketball courts and five tennis/volleyball courts. Knowles is used daily for open recreation, athletics practices and Health and Human Performance courses. 
Knowles is available for rental/reservation and is great for high school track meets, youth team practices, and large group activities. Please note that groups of over six people will need a reservation.

David Smith Stadium and Ramer Field are home to the Falcon football, lacrosse and track teams. A 9-lane 400-meter outdoor track, pole vault, long/triple jump runways and throwing event venues surround the AstroTurf surface football field.

Named for former coach Faye Perkins, Perkins Field is home to Falcon softball and is equipped with NCAA specified dugouts, two batting cages and a bullpen.

The Intramural Complex Fields (IM Complex) include 22 acres of green space nestled between main campus and the Falcon Center. The complex can support multiple soccer, lacrosse, rugby and football fields.

Home to the Falcon tennis team, the Falcon Tennis Courts are comprised of six hard tennis courts located just east of Perkins Field.

Campus Recreation
185 Emogene Nelson Ave.
A105 Falcon Center
River Falls, WI 54022
/p>