Member Services
Campus Recreation offers a wide range of services and opportunities to both campus and the broader community. From fitness center memberships to birthday party hosting to trips and clinics, we have something for everyone. This page is your one stop shop for information relating to services, reservation, memberships and policies. Questions? Contact Campus Recreation at campusrec@uwrf.edu or 715-425-4289.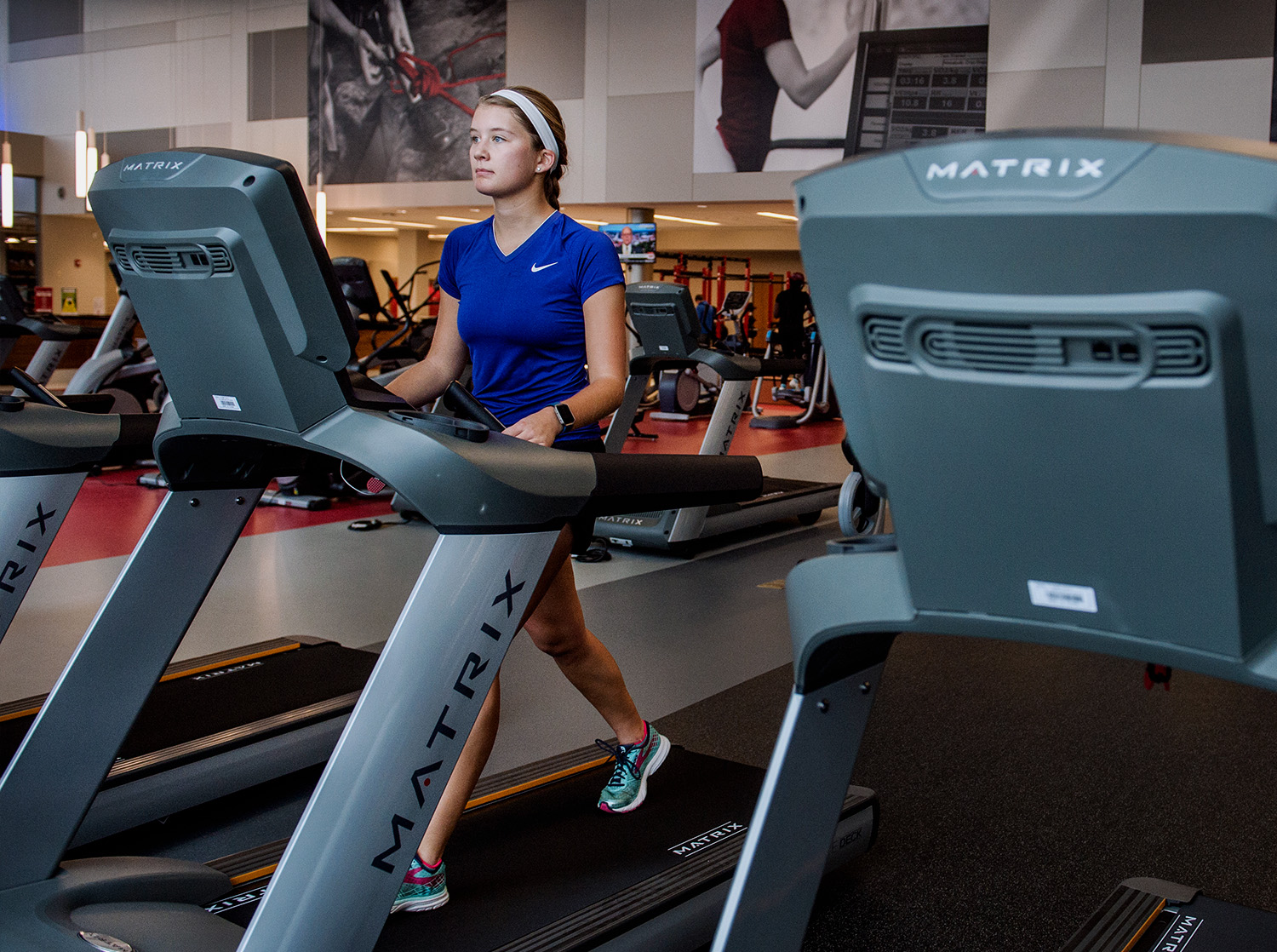 Birthday Parties
Looking for a fun idea for a birthday party? Consider hosting your event at the UW-River Falls Falcon Center with Campus Recreation! Learn more about party options at our Birthday Parties link.
Court Reservations
Click the "Make a Reservation" button to reserve a court.
Court reservation options: 
Tennis court reservation (tennis court reservations aren't available from 7-9 p.m., Mon.-Fri.: $10/hour for one court
Batting cage rental: $15/hour for one cage
Volleyball, badminton, pickleball or basketball court reservation: FREE with facility admission
*Must pay facility admission if non-member, pending court availability. 
*Open skating and the climbing wall may be reserved for private groups/birthday parties. Visit Birthday Parties to learn more.
*Other facility space (Knowles Field House, Page Arena, Hunt Arena and Multipurpose Rooms) are available for rent for private/external groups. Please contact falconcenter@uwrf.edu for hourly rates in the different facilities. 
 
Please follow these steps to setup your Member Enrollment. After you complete your enrollment and receive an email from NIHCA, Campus Recreation staff will verify and submit your facility access data each month.
Go to NIHCArewards.org.
Go to "MEMBERS Options."
Click "First Time Enrollment." (You must meet all requirements and be a paid member of the Falcon Center.)
Select your insurance company.
Enter the zip code (54022) of your facility to find your location. 
Find the Falcon Center - University of Wisconsin River Falls and click "Enroll Online."
Read and consent to terms by clicking the box and then apply.
Please read your insurance information before enrolling in NIHCA Fitness Incentives.
Fill out the entire "Member Enrollment" form. This includes "Fitness Center Barcode" (Community members enter number on the front of your membership card and UWRF Fac/staff use your w#).
After you submit your information you will receive an email from NIHCA REWARDS that confirms your enrollment.
Campus Recreation staff completes the verification process and will check your visits at the end of each the month for submission.
*UWRF students and all student memberships are not eligible to participate in the NICHA Rewards/Fitness Incentive program. You must purchase a Community or Faculty/Staff Falcon Center, Climbing Center, or Knowles Field House membership to become eligible for this program.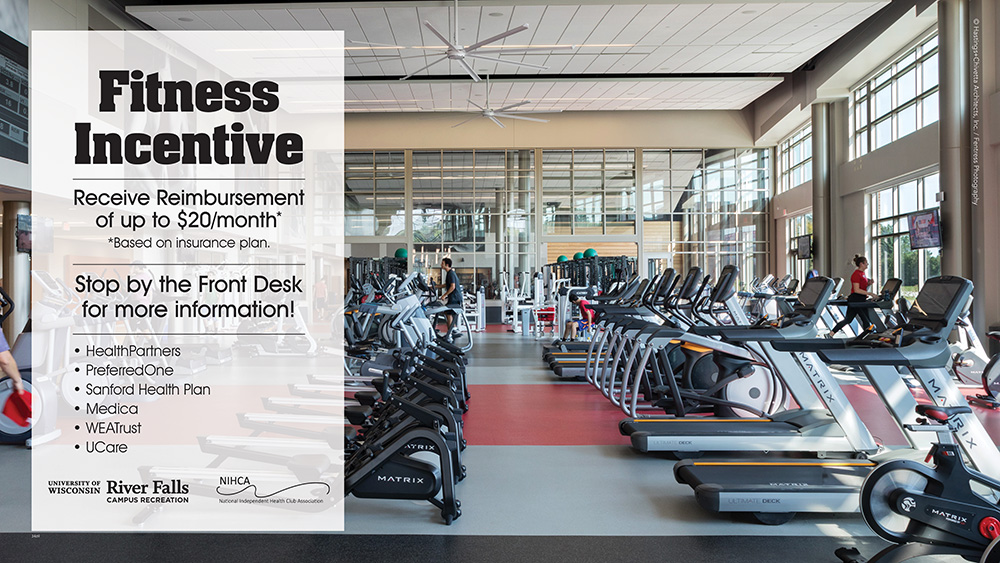 A parking pass is included with the purchase of a recurring Community Membership. Any UWRF issued parking pass will work in Pay3 (Ramer Field parking lot). UWRF faculty and staff who do not already have a parking pass may purchase a pass through the Parking Office. Campus Recreation is not authorized to sell a Pay3 pass to UWRF students, faculty or staff.
Passes issued to Community Members are valid from 6:00 a.m.-1:00 a.m. in Pay3. Passes are only valid with an active membership. Physical passes are not issued. License plate number(s) are recorded in the campus tracking system. Pay3 also has $1/hour metered parking system for those wishing to pay based on daily use. Pay3 is enforced from 7:00 p.m. Sunday through 7:00 p.m. Friday. For more information about metered parking in Pay3, view parking information provided by University Police.

Campus Recreation is not responsible for tickets or violations obtained in any university lots. On campus parking is controlled by the University Parking Office.  If you have questions or would like to appeal a citation, contact the Parking Office:
University Parking
103 Regional Development Institute
410 S. 3rd Street
River Falls, WI 54022
715-425-3333
Office Hours: Mon-Fri, 7:45 a.m.-4:30 p.m.
---
General Information and Policies
 Explore below to find our policies and general facility information. 
As part of UW-River Falls Campus Recreation and its mission to achieve the highest standards for its participants, we have developed our policies to ensure a safe, fair and fun environment. The following general rules apply to all facilities and activities that are associated with Campus Recreation. Patrons who fail to comply with the rules of the Falcon Center may lose all membership privileges.
Participation in Campus Recreation facilities and activities is completely voluntary whether participating in or watching any event or activity sponsored by any group. Each individual participating or watching assumes the risk for any harm or injuries sustained. Neither UW-River Falls, nor Campus Recreation can assume any responsibilities for injuries incurred through participation in facilities or activities. It is strongly advised that participants use caution and be aware of potential health risks associated with exercise, and obtain a physical from a doctor before beginning an exercise program. Should an accident, injury, or related incident occur, please contact a Campus Recreation staff member immediately.
Keeping participants safe is the number one priority for Campus Recreation employees. All Campus Recreation professional staff and student staff are certified in First Aid, CPR, and AED and are trained to provide emergency care to participants if needed. In the event of an emergency, participants are required to report all accidents, incidents, or injuries to the nearest Campus Recreation employee so proper care can be provided. If an ambulance is necessary, the Campus Recreation staff will contact university police and follow the emergency procedures. Campus Recreation employees may not transport injured victims. In any injury situation, the injured person (when possible) and any witness will be asked questions for an accident report.
Day use lockers are free! The day use lockers are located near the Karges Auxiliary Gym. Patrons must provide their own locks. Locks that are not removed by the end of the night on day use lockers will be removed and the contents found in the locker will be placed in our Lost and Found.
Full and half lockers will be available to rent on a first-come,-first-serve basis for all options. A combination lock is provided and any personal locks will be removed.
Prices
|   | Full Locker | Half Locker |
| --- | --- | --- |
| Annual | $100 | $75 |
| Academic Year | $80 | $50 |
| Semester | $40 | $25 |
| Monthly | $15 | $10 |
Rental Dates
|   | Start Date | End Date |
| --- | --- | --- |
| Annual | Date of Purchase | 1 Year from Date of Purchase |
| Monthly | Date of Purchase | 1 Month from Date of Purchase |
| Academic Year | Sept. 1 | May 31 |
| Fall Semester | Sept. 1 | Dec. 31 |
| Spring Semester | Jan. 1 | May 15 |
| Summer Semester | May 16 | Aug. 31 |
A towel service is included with your locker rental, but you must exchange the towel for a clean one at the Fitness Center desk.
If not renewed before the current academic year ends, the locker will be cleared out and any contents will be placed in the Fitness Center Lost and Found for four weeks, before taken to the Parking Office. The locker will then be rented to the next interested or available person on the waiting list.
Acts of inappropriate behavior are not permitted. These include, but are not limited to the following:
Failure to comply with posted guidelines for all individual areas, including those located on the Campus Recreation website.
Furnishing false or misleading information to any University staff member.
Failure to comply with reasonable directions and requests of Campus Recreation personnel.
Forgery, alteration or misuse of any UWRF document, record, fund or ID. This includes utilizing another ID for entrance into Campus Recreation programs or facilities.
Intentional disruption or obstruction of Campus Recreation activities.
Physical or verbal assault, sexual harassment, hazing, threats, intimidation, coercion or any other behavior which threatens or endangers the health or safety of any member of the University community or any other person while on UWRF premises, at Campus Recreation activities, or on premises over which the University has supervisory responsibility pursuant to state statute or local ordinance.
Attempted or actual theft, damage or misuse of UWRF property or resources.
Violation of published University or Campus Recreation policies, rules or regulations.
Unauthorized or improper use of any UWRF property, equipment, facilities, or resources, including unauthorized entry into any Campus Recreation area, building or premises.
Use, possession or distribution of alcohol, any narcotic or other controlled substance on UWRF premises, at Campus Recreation activities, or on premises over which the University has supervisory responsibility pursuant to state statute or local ordinance, except as permitted by law and University regulations.
Violation of federal, state or local civil or criminal laws on University premises, while participating in University activities, or on premises over which the University has supervisory responsibility pursuant to state statute or local ordinance.
 
Violation of any of the above may result in any or all of the following:
Suspension from Campus Recreation facilities and programs and/or revocation of membership
Referral to the Fitness and Recreation Coordinator
Referral to University Police
Referral to the Student Conduct Office
Referral to the Dean of Students Office
Activity appropriate athletic attire must cover the chest and buttocks.
Clean, closed-toed, non-marking, activity appropriate footwear is required in ALL areas of the facility unless otherwise approved by Campus Recreation staff.
Backless shoes, dress shoes, and boots are not allowed.
This policy was reviewed by Student Senate in August 2022.
Fixed Term Membership Types (Including Monthly, Semester, and Summer options)
There are no cancellations for any fixed term membership types. Per the membership application agreement, there are no refunds for any of these memberships.
Recurring Membership Types
Members paying by recurring billing may cancel at any time.
These membership types have no expiration date and will continue until the completed Membership Cancellation form is received. A 10 day advance notice is required for all cancellations. Cancellation requests will be processed in the following manner:
Cancellations received in 10 or more days before the scheduled deduction: Memberships will terminate at the end of that term and automatic withdrawals will no longer occur.
Cancellations received less than 10 days before the scheduled deduction: Memberships will terminate at the end of the following term and automatic withdrawals will stop after the next payment.
Per the membership application agreement, there are no refunds for any memberships.
Cancellation forms can be filled out at the Fitness Center desk.
Students are not able to use recurring membership billing options.
Phone calls or emails will NOT be accepted as a form of cancellation. Members will be contacted via e-mail once the form has been received and processed. If you do not receive an email confirmation, please contact Campus Recreation at campusrec@uwrf.edu.
UWRF Faculty/Staff that will be retiring or leaving their employment for any reason must submit a membership cancellation.
Individuals using the UW-River Falls Campus Recreation facilities for organized or structured activities without a reservation is considered to be in violation of the open recreation policy, and therefore deemed to be using the facility in an exclusive use capacity.
Exclusive use is only permitted with the advanced rental or reservation of facility space.
Examples of prohibited activity include, but are not limited to:
Organized practices or activities (defined as more than 6 people)
Personal training
Private instruction
Services for which compensation is rendered
Sales
Solicitation
Members must present UWRF ID or issued membership card at every entrance into the facility.
Patrons must wipe down the equipment after use. Towels, disinfecting spray and disinfecting wipes are provided.
Individuals must put all bars, plates, dumbbells, collars, etc. in their proper place after use. 
No snapping or hanging on the rim or net unless for safety during contest.
Batting cages, tennis courts, and badminton courts must be scheduled with the Front Desk staff at least 24 hours in advance to guarantee space. Please contact the Front Desk staff at 715-425-4289.
Throwing a frisbee, football, baseball, lacrosse or similar activities during open recreation are subject to space availability and may not be allowed by Campus Recreation staff.
Basketballs and volleyballs are available to be checked out from the Front Desk.
No bicycles, inline skates, skateboards or motorized personal transports are allowed in the building.
Personal music systems only. No portable speakers allowed.
The Falcon Center staff reserves the right to refuse service to patrons wearing inappropriate apparel or footwear.
Food is only allowed in the front lobby, free areas and lounge areas. Drinks are allowed in all areas, but must be in bottles with re-sealable tops. 
The Falcon Center assumes no responsibility for personal items. All patrons are encouraged to secure their own possessions. Theft should be reported immediately to the staff at the Front Desk who will file an incident report with University Police.
Falcon Center enforces/abides by UWRF's Policies on tobacco. UWRF is a tobacco-free campus.
ACADEMIC YEAR:
Fitness Center/Aux Gym/Group Fitness/Personal Training/Climbing Wall
Age 18+

Able to work out on their own
Day Pass: eligible to sign
Membership: eligible to purchase and sign

Age 16-17

Able to work out on their own
Day Pass: legal guardian must sign waiver
Membership: minor may have a single membership with a legal guardian signature legal guardian must sign membership form and they must have their own membership card (single membership allowed)

Age 12-15

Must be accompanied by an adult/guardian (18+)
Day Pass: legal guardian must sign waiver
Membership: must be a part of a family membership
Group Fitness: only allowed in youth classes

Age 11 and under

Fitness Center, Auxiliary Gym, Group Fitness: not allowed
Climbing Wall: must be accompanied by an adult/guardian (18+) and have legal guardian sign waiver
Knowles Field House/Hunt Arena
Age 18+

No supervision required
Day Pass: eligible to sign waiver
Membership: eligible to purchase and sign

Age 12-17

No supervision required
Day Pass: legal guardian must sign waiver waiver
Membership: minor may have single membership with legal guardian signature

16-17 year olds may have membership card

Age 11 and under 

Must be accompanied by an adult/guardian (18+)
Day Pass: legal guardian must sign waiver
The Campus Recreation staff is responsible for controlling the type of music and volume level for any facility where music is played on a central system. The music played will be determined based on the general population using the facility and will not interfere with any other university policy or university group that may be in the facility. Personal headsets are welcomed in any facility, but the use of radios/portable speakers will not be permitted.
Campus Recreation regularly takes photographs, video, and/or tape recordings of our various programs, activities, or special events. During these various programs, a photo or video/audio recording may be taken of you unless you request otherwise. Your participation will be considered permission for UW-River Falls Campus Recreation to photograph, video tape, record and/or televise your image and/or voice use in any publications or promotional materials, in any medium now known or developed in the future without any restrictions. If you object to Campus Recreation using your image or voice in this manner, please notify the professional staff with Campus Recreation.
Any member 16 years of age and older will be asked to have a photo on file to the Recreation Staff with proper membership access and restrictions.
Any individual(s) who seeks to film (photograph/video), interview, or conduct class projects in any recreation facility/property must first receive permission from Campus Recreation Professional Staff. Taking pictures via cameras, video cameras, and video ready cell phones is strictly prohibited in the men's and women's locker rooms and restrooms.
Campus Recreation recognizes the need to have a balance between the individual's right to be free from invasion of privacy and the institution's duty to promote a safe environment for all members.
The purpose of video surveillance in the Falcon Center is to:
Promote a safe environment by deterring acts of harassment or assault.
Deter theft and vandalism and assist in the identification of individuals who commit damage to UWRF property.
Assist law enforcement agencies with regard to the investigation of any crime that may be depicted.
Assist in the daily operations of the Campus Recreation staff.
Signs are posted in appropriate areas, either at the entrance to the area under surveillance or in close proximity to the camera, informing patrons of the usage of video surveillance on campus.
Personal information contained on the recordings shall not be used or disclosed for purposes other than those for which it was collected, except with the consent of the individual or as required by law.
The focus of cameras used in video surveillance in the Falcon Center will not cover areas where there is an expectation of privacy, such as locker rooms or bathrooms.
All participants must provide valid identification to use the facilities. Please present one of the following forms of identification to the front desk of Campus Recreation facilities.
UWRF ID (verifying via ID reader that all fees have been paid for the current semester).
UWRF Faculty/Staff ID (Campus Recreation memberships must be purchased to use the Fitness Center and to participate in Group Fitness classes).
UWRF Alumni, Spouse or Dependent ID.
Falcon Center ID card issued to all members 16 years old and older.
If you forget your ID you may enter the facility by having the Recreation Staff look up your name or w# one time per semester or by purchasing a guest pass.
Campus Recreation
185 Emogene Nelson Ave.
A105 Falcon Center
River Falls, WI 54022
/p>