Partner With Us
Let's work together! Career Services aims to partner with on-campus departments and offices to provide the highest quality services for students. Explore below to find information on how to partner with our office, post jobs and internships and find and utilize resources to better assist students.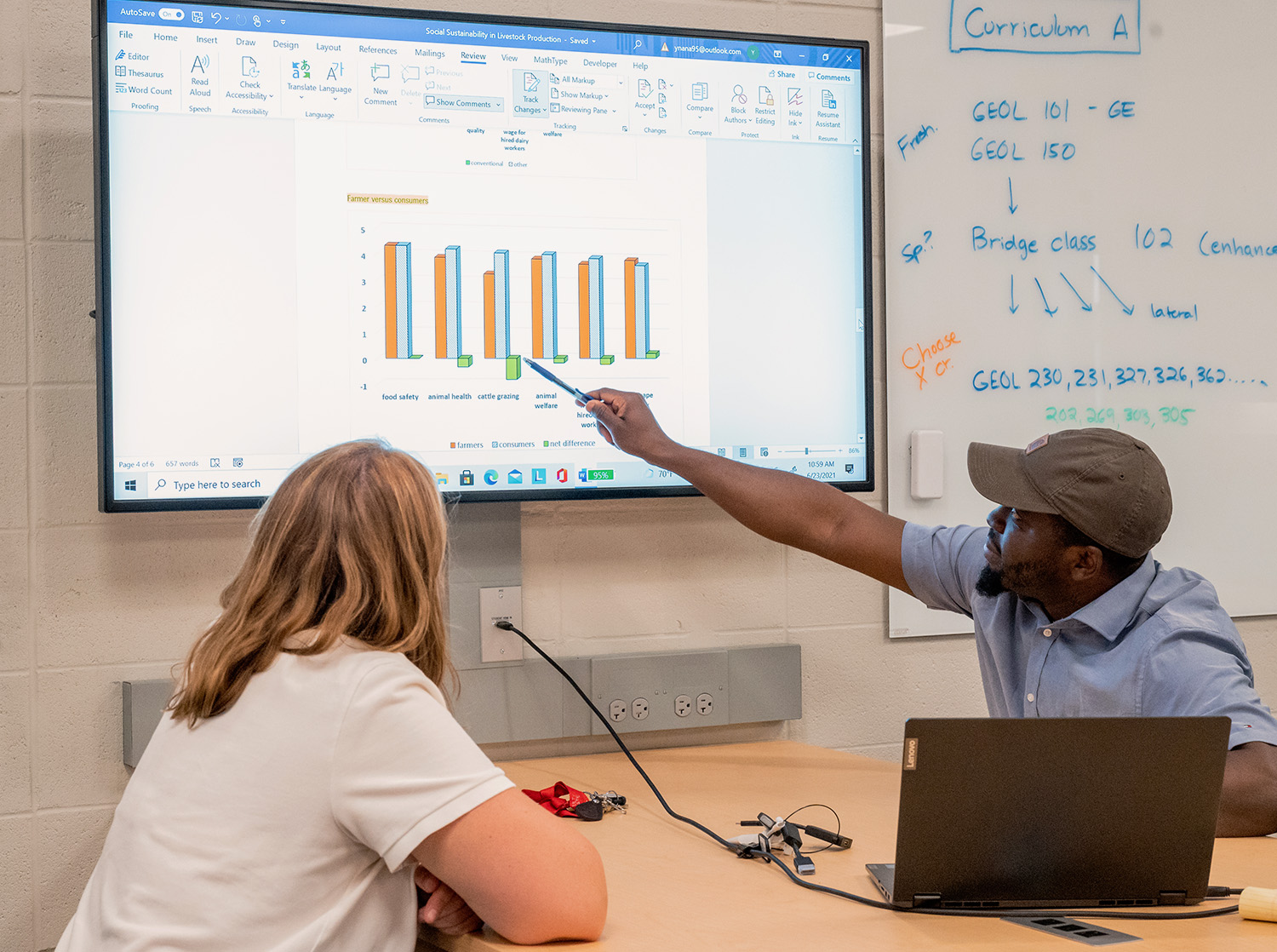 Classroom Presentations
Career Services staff members present in 100 classrooms annually on a variety of topics. We're happy to visit your class to present on a variety of career topics or provide a short introduction on our services and resources. We ask you to provide as much notice as possible for presentations to increase the likelihood of booking your first-choice date but ask for a minimum of three weeks advance notice. Click the button to schedule your class presentation. 
Encourage or Require Attendance at Events 
Each semester, Career Services hosts a variety of in-person and virtual events for students to attend. Consider encouraging or requiring student attendance at career-related events as part of your curriculum. Learn more about our events here.
Events include: 
Pizza and Plans (fall)
My First Resume (fall and spring)
Career Clarity Workshop (fall)
Rodli Resume Takeover (fall and spring)
Career and Internship Fair (fall and spring)
Ask Us Anything Employer Series (fall and spring)
MN Government and Nonprofit Career Fair (fall)
Teacher Candidate Professional Development Day (fall and spring)
K-12 Education Career Fair (fall and spring)
Rock Your LinkedIn Profile (fall)
Salary Negotiation Workshop (spring)
Etiquette Dinner (spring)
Fuel for Finals (spring)
Assign a Mock Interview via Big Interview 
Big Interview is an online system that combines training AND practice to help improve interviewing techniques and build confidence.
Big Interview offers a variety of tools including:
Mock interview practice and recording tool
Written and video curriculum covering the entire job search and interview process
Mechanism for sharing videos externally/internally for feedback
Resume curriculum
Learn more about Big Interview here. 
Students will have access to Big Interview through their Handshake account. Instructions on how students can access this resource can be found on this webpage.
One of the greatest features of Big Interview is the Assignments Module. In this module, we're able to create assignments with custom interview question sets (based on industry, competencies, etc.). Once an assignment is created, it's given an individual code that students can then put into their Big Interview account. With this code, students can complete a series of mock interview questions by recording their answers and submitting the assignment. Big Interview will utilize artificial intelligence to provide feedback on the student's answers, and the students are able to share their answers externally via email or through a single link (which they can then upload to Canvas). This is a great way to encourage interview practice. 
---

More Ways to Support
Internships taken for academic credit are work experiences designed, conducted and evaluated within an academic context. Students earn academic credit while working in a professional setting. Ongoing communication, feedback and evaluation among students, faculty and work supervisors ensure that educational and work goals are met.

Participation in an internship or experiential learning opportunity prior to graduation is strongly encouraged for ALL students regardless of whether it's a requirement for graduation.
The faculty and staff at UWRF are important partners in helping students and alumni find careers, internships and meaningful futures. If you are working with a student you feel can benefit from career counseling and/or internship or full-time employment assistance and you would like to make a referral, please contact our office at 715-425-3572 or career.services@uwrf.edu.
Career Services staff members are available to meet one-on-one with students and alumni to discuss:
Resume writing and reviews
Cover letter writing and reviews
Researching majors and careers
Job and internship search
Interview preparation
Mock interviews
Career assessments (for current students only)
LinkedIn profile development
Salary negotiation strategies
Accepting and declining job offers
Handshake is UWRF's campus-wide electronic job posting system for full and part-time jobs, internships, on-campus employment and volunteer opportunities. Career Services invites you to post your department's student worker positions. To post student worker positions, please create an employer account in Handshake. Please use the video and/or print tutorials for on-campus employers within the Handshake link when creating your employer account and/or posting positions as there are very specific instructions included.
You might be asked to write letters of recommendation on behalf of students (typically for graduate school or scholarship applications, less common for other opportunities). Some organizations will have specific criteria for these letters of recommendation and/or you might be asked to fill out an evaluation form assessing the student. Other organizations may provide very loose guidelines.
Students should convey the process and details when asking you to serve as a letter of recommendation writer, as well as provide you with a copy of any helpful materials (i.e. resume, personal statement, etc.).
Career Services
187 Rodli Hall
River Falls, WI 54022
/p>