Application Materials
Your application materials are a place to shine! Resumes and cover letters are excellent vehicles for highlighting your skills and experience and it's important to make sure that they are polished and professional. Explore below to learn more about each type of material and how you can maximize them.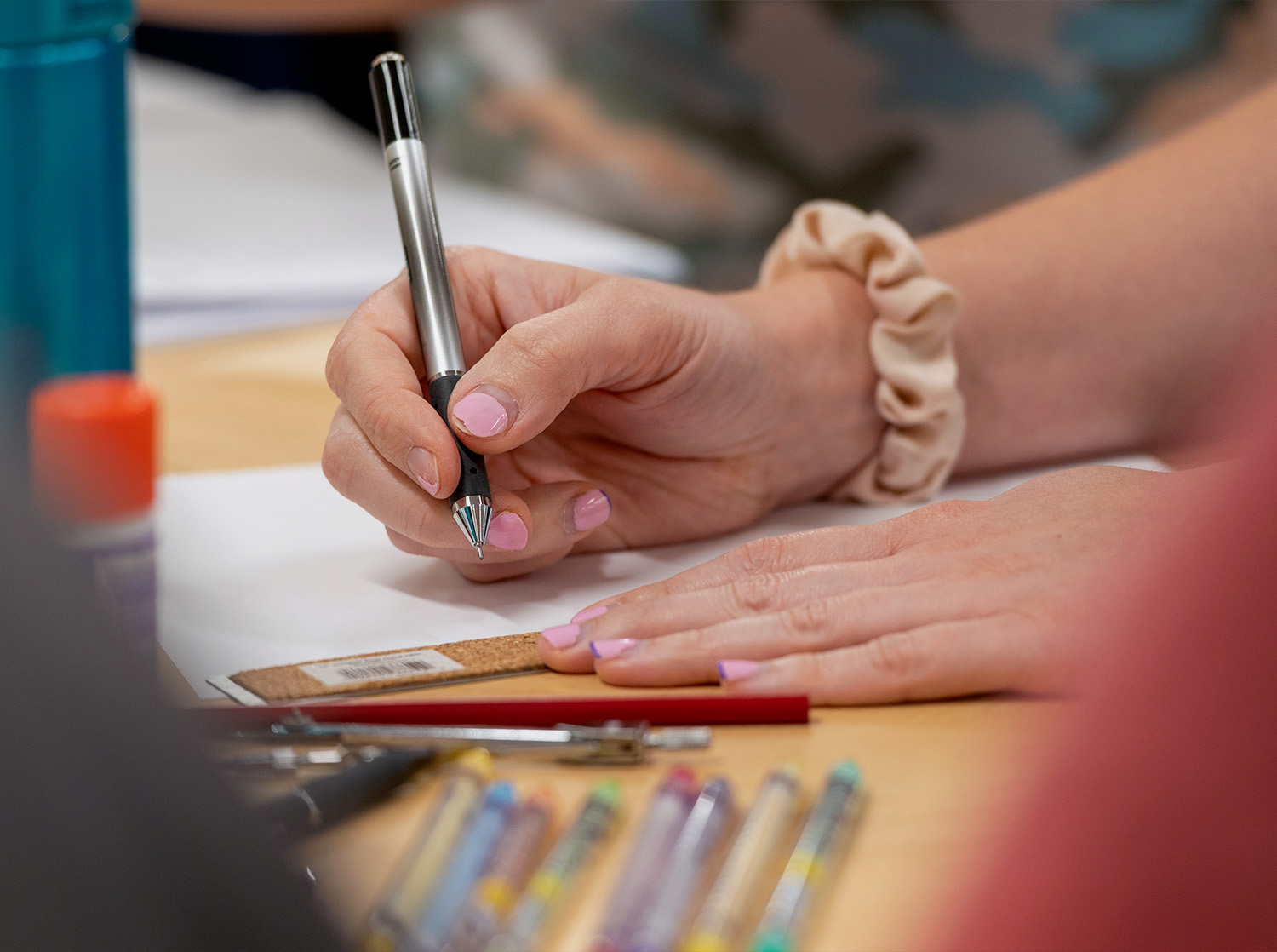 Resumes
A resume is a summary of your educational and professional experiences. This may include colleges attended, work, internship, volunteer, research or other relevant experiences. The goal of a resume is to convince an employer to invite you for an interview. On average, employers spend six to 15 seconds screening a resume, so it is essential for your resume to demonstrate how your academic, extracurricular and work experiences connect to the specific job and offer evidence that you have potential to be a good fit for the position and the organization.
There is no right or wrong way to put together a resume. However, it is recommended that you spend time researching the position and organization so you have a clear idea of what to showcase as you tailor your resume to the specific job. Read the job description carefully and use it to identify keywords, skills and requirements. When tailoring your resume, highlight the skills specific to the job and use the keywords and verbiage you have gleaned from the job description and your research. Make the connection between your knowledge/skills/experience and the position apparent!
A few tips:
Keep a primary resume document that holds ALL your experiences so you can customize a presentation resume for each job.
Do not use templates that can be found in Microsoft Word or other software. Start from scratch!
Keep the most valuable information towards the top of your resume. Move less relevant items to a less prominent location or eliminate them from that version of your resume if they are not needed.
Focus on skills that make you unique and stand out from other candidates.

Skill Statements: A skill statement is a bulleted statement that describes the skill you gained and duties you performed while in a certain position. Effective skill statements are the most important part of your resume. There are several different formats for writing skill statements but in general, we recommend beginning with an action verb in the past tense, including your task and a result. The result could be in the form of a number or quantity, a soft skill (e.g. teamwork, leadership, etc.), a language or technical skill or an accomplishment. 
We do not recommend putting "References Available Upon Request" on your resume. References should be listed on a separate document from the resume. Ensure that all application materials (e.g. resume, cover letter, and/or reference page) have a consistent "look" by including your name and contact information at the top of each document, using the same margins, font size, font type, etc.
Example: lastname_firstname_References
Hiring managers receive hundreds of applications and it can be difficult to keep track of 10 resumes that are all titled "Resume." Use a consistent titling format including your name and the type of document (e.g. resume, cover letter, references, etc.) when saving each document. This makes reviewing documents easier for the hiring manager as well as demonstrates your professionalism and attention to detail.
Examples:
NancyDrewResume
Nancy Drew_Resume
DrewN_Resume
DrewNancy_Resume
If you are asked to submit your application via email instead of through an online application process, include a short note via email including the name of the position to which you are applying and stating that the requested application materials are attached. Use professional email etiquette by including a greeting and salutation.
Example: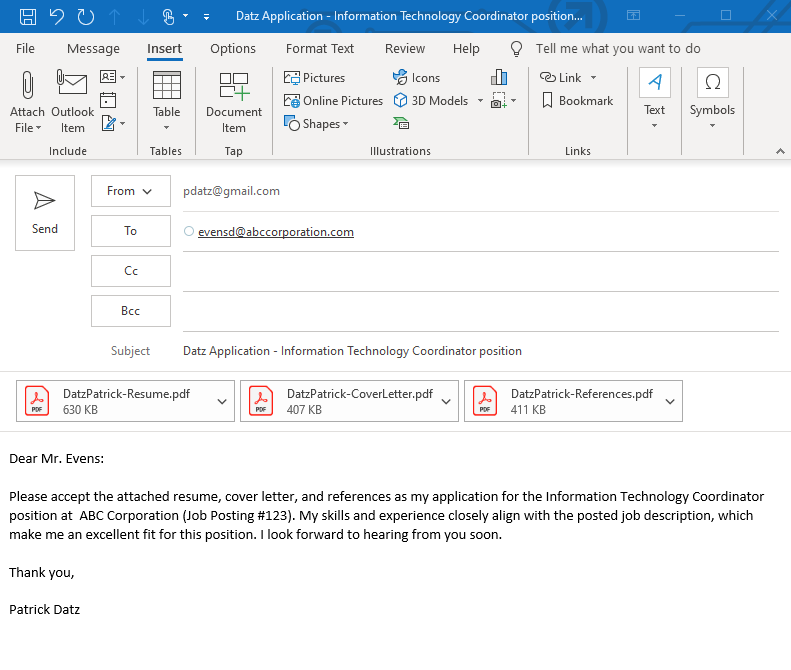 ---
Resume Sections
Building your resume is a crucial step. Explore below for helpful hints on how to organize your resume.
Choose a professional font (Verdana, Calibri, Times New Roman, Arial).
Completely spell all words other than the state or middle initial.
Your full name should be at the top of the page and in a larger font than everything else on your resume.
Your contact information should be listed under your name (mailing address, phone number and email address).
Use a professional email address (example: firstname.lastname@gmail.com).
If applicable, include your shortened LinkedIn URL, online portfolio or professional website link.
---
Andrew Peters
5555 Riverview Avenue South, Woodbury, MN 55555
555-555-1234, andrew.peters@my.uwrf.edu

Melissa Mulberry
1003 Idaho Avenue  • River Falls, WI 54022 • 555-555-5555
melissa.mulberry@my.uwrf.edu • linkedin.com/in/melissamulberry
Most employers no longer expect or want to see an objective statement on a resume, so this is optional.
If you do choose to include an objective on your resume, it should be clear, succinct, and tailored to the specific position you are applying for.


3-5 bullet points tailored to the position of interest in order to summarize related qualifications.
Most commonly used when an applicant has extensive experience in their field.

---

Include degrees already earned or in progress starting with the most recent toward the top. Do not include high school.
Include:
Degree
College/University name
Major
Graduation date (month and year) even if it is a future date
Minor, concentration, or emphasis area
Grade point average (GPA) if it is a 3.0 or above. List major GPA instead if your overall GPA is below a 3.0 but your major GPA is above a 3.0
UWRF abbreviation can be listed immediately following the written out name of the institution if involved in campus organizations, activities or jobs. This allows you to use the abbreviation when referencing the university throughout the rest of your resume.
General

---

---

---

---

Exploratory Student

Transfer Student

Military Experience

Non-Degree Seeking International Student

Study Abroad

Tailor section headings to highlight specific experience (Teaching Experience, Marketing Experience, Customer Service Experience).
Include relevant paid or unpaid experience.
Reverse chronological order within sections.
General

---

---

---

---

Multiple Positions at One Organization

Coursework is helpful to include if you have knowledge from class that is relevant to the position you are applying for that has not been applied within a job or other experience. This section is more common when you do not have relevant work or internship experience in your field. After you have completed an internship or gained relevant work experience, the coursework section is not as relevant as the related knowledge and skills from class will be covered through bullet point statements under specific experiences.

---

In this section of your resume, you have the choice of simply listing your involvement experiences, listing involvement experiences with skill statements or a combination of both. If you choose to do a combination of both, ensure that your most related involvement includes skill statements. Involvement from pre-college years should only be included if it is very high level and/or directly related to the position to which you are applying.


---

---

---

Focus on experiences related to academics, your major or industry of interest outside of the classroom.
You might consider titling this section presentations, training, conferences or another title that relates to the experiences listed.

---



---

---

---

For fields such as veterinary science, shadowing experience can be important to include on a resume.


---

---

Cover Letter Writing
While applying to jobs, internships or other opportunities, you may be asked to submit a cover letter, letter of intent or letter of interest. A cover letter allows you to introduce yourself, conveys your interest in and fit with a position and organization, highlights your related skills and qualifications and demonstrates your written communication skills. Similar to your resume, your cover letter needs to be tailored to each position and organization that you are applying to. Read the job description carefully, and use it to identify keywords, skills and requirements. When tailoring your cover letter, highlight your related qualifications using keywords and verbiage from the job description and your research.
A cover letter has three main sections: the opening paragraph, the middle section and the final paragraph. Each section serves a specific purpose.
Your cover letter is just one piece of your application materials so it is important that the appearance matches that of your other documents. The contact information, font type(s), font size(s) and margins used in your letter should be consistent with that of your other application materials. Also, use block-style formatting meaning that all paragraphs are left-aligned, with no indentations, and ensure that your letter does not exceed one page in length.
If the job posting mentions who applications can be addressed to, include that individual's name here. If the job posting does not include this information, consider calling the company to let them know that you are interested in the position, and ask if there is a specific person you should address your application materials to. Some companies will provide this information and some will not.
If you do not have a specific person to address your materials to, utilize the company name or the words hiring manager (e.g. Dear Website World, Inc. or Dear Hiring Manager:). Use a colon instead of a comma at the end of your greeting.



In your opening paragraph, state the position to which you are applying and your interest in the organization and the position. If you are applying to a position because of a connection you have made, this is your opportunity to mention that connection. However, always ask permission to include their name and ensure that your connection is a reliable employee of the company or organization.
In the middle section of your cover letter, emphasize what you can do for the company. What are your qualifications? Why are you the right person for this position? Connect your skills and experiences to the job description. There are a variety of ways to write this section of your cover letter. Some letters may have more than one paragraph in the middle section, and others may use bullet points to make it easier to read. View the examples under Cover Letter Samples below to determine which type of formatting fits your needs.
In your final paragraph, restate your interest in the position, thank the employer for their time and consideration and mention your desire for an interview. Include a salutation and leave three blank lines before typing your full name. The blank space can be used for you to sign your cover letter if you will be submitting it in-person. If you will be submitting it electronically, leave it blank, there is no need to sign. 



Career Services
187 Rodli Hall
River Falls, WI 54022
/p>