Scholarship. Service. Leadership. Friendship.
These are the values found within fraternities and sororities at UWRF. Greek life groups have played an important role in the lives of thousands of students and alumni.
Fraternity and sorority involvement can be one of the most exciting and fulfilling experiences during your college career. You'll meet others through social events, volunteer in the community, feel supported academically and grow interpersonally. But so much more than that, it offers you a sense of belonging on campus.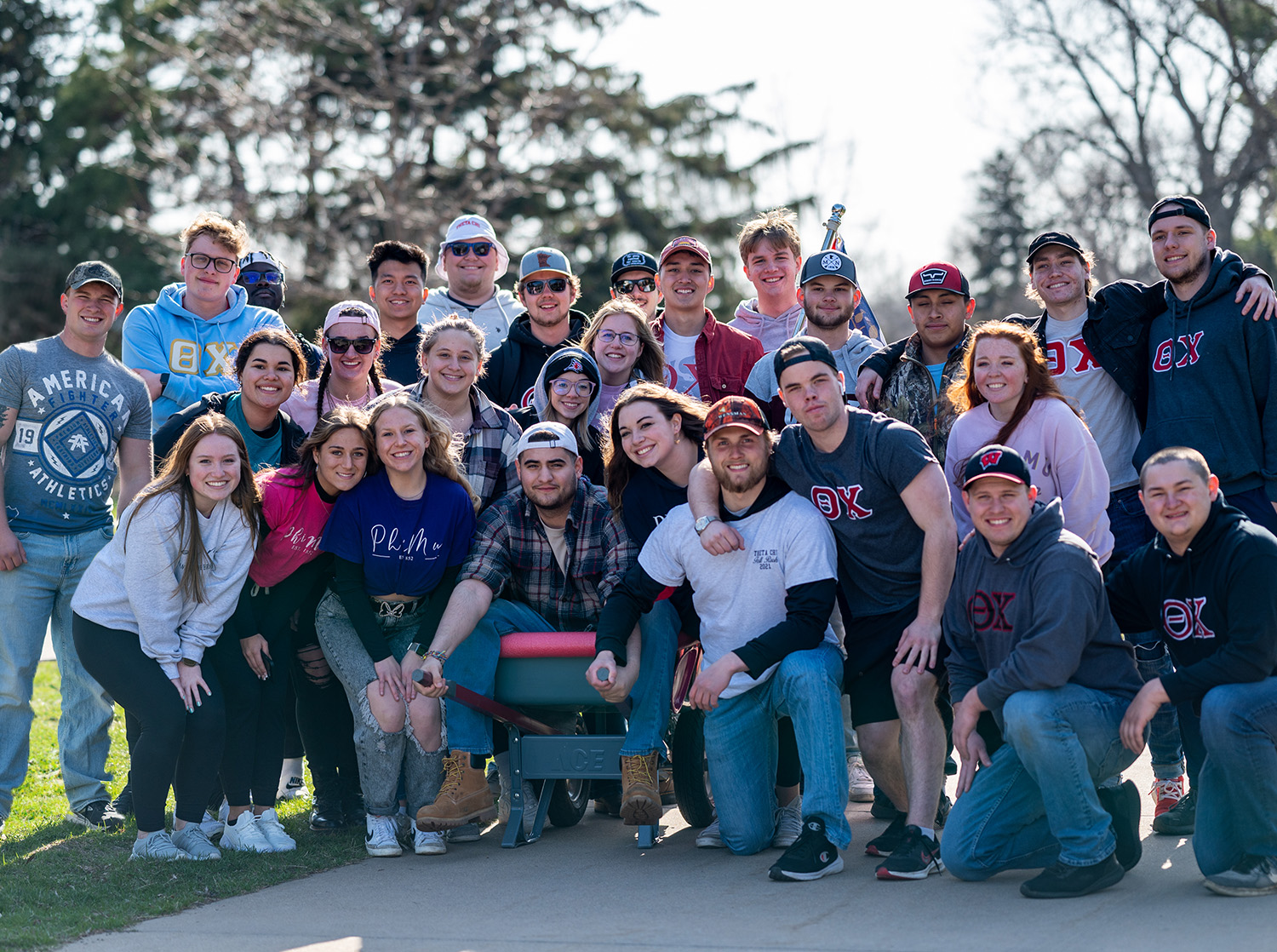 UWRF is home to three sororities and three fraternities. For more information about each chapter, visit FalconsConnect, their personal websites linked below or email studentinvolvement@uwrf.edu  
Frequently Asked Questions
Have questions about Greek life? Explore below to see answers to some of the most common questions and misconceptions! 
Attending college is a major life change, creating a big transition period for many students. Sororities and fraternities enable you to meet many people through social events, service projects, recruitment and leadership programming. These organizations are rooted in founding principles that foster academic achievement, student involvement, community service and life-long friendships. Greek organizations are groups of men and women who come together to form a personal network of individuals with similar ideas, interests and a mutual pursuit of a well-rounded college education. Advantages of membership include:
A support group to help you make the adjustment to college easier.

Scholastic resources to help achieve your academic goals.

Leadership skills acquired through hands-on experience.

Encouragement to get involved and maximize your potential on campus.

Opportunities for active participation in community service projects.
It is important that you find a place where you comfortable and can be yourself. To do this, we recommend that you keep an open mind when considering different fraternities and sororities and make the best decision for yourself. Each sorority and fraternity at UWRF will provide a similar experience in terms of founding values, activities offered and support resources.
IFC fraternities and Panhellenic sororities take in new members through a process called recruitment. Recruitment is a mutual selection process with the hope that there is a place for all. Recruitment takes place at the beginning of each new semester. Some chapters also continuously recruit throughout the semester. We encourage you to check out the FalconsConnect page or the UWRF Greek Life Facebook page for information.
Academic excellence is one of the most important aspects of Greek life at UWRF. Each chapter strives to foster an environment of academic success through academic mentoring programs, incentive programs and minimum GPA requirements. All sororities and fraternities have a GPA requirement for initial membership and to remain active in the organization. These requirements are often higher than the general campus average. Organizations often regulate study hours, maintain resource files, reward those who do well and offer help to those experiencing difficulties. Chapters have both faculty and alumni advisers who focus on the scholastic achievement of each member.
Fraternities and sororities are inherently social and can assist members in the pursuit of social experiences through social events including Homecoming, Bid Day, Formals, Mixers/Socials, Greek Week, Greek Awards and brotherhood and sisterhood events. All sororities and fraternities are held accountable to the UWRF Code of Student Conduct, local, state and federal laws. In addition, fraternities and sororities also have insurance policy guidelines and regulations from their inter/national organizations which work toward providing safe and responsible social programming.
UW-River Falls is dedicated to promoting a safe and healthy campus environment for all our students. In addition, UWRF is committed to promoting an environment that fosters respect for the dignity and rights of all its community members. As such, the university will not tolerate hazing activities by any individuals, groups, teams or recognized student organizations. All chapters are expected to uphold all federal, state and local laws as well as university policies regarding alcohol consumption and use.
The UWRF Student Involvement Office requires each student organization to go through a mandatory training each year to remain a recognized student organization on campus. Within that online training is a risk management component. Specifically for the sorority and fraternity community, the Interfraternity Council and Panhellenic Council provide risk management training to new members as well. Risk management education should also be provided to your student(s) through their new member education process through the respective chapter that they have chosen to join.
Hazing is considered an illegal act and will not be tolerated by the University or any of the inter/national organizations. All chapters are expected to uphold all federal, state and local laws and university policies in regards to hazing and alcohol use.
As a member of a fraternity or sorority, you would be participating in a variety of positive activities that will enhance your academic and co-curricular experience at UWRF. Participation in a sorority or fraternity should enhance your collegiate experience, not be an obstacle to academic achievement or personal development. You will have the opportunity to enhance your leadership development, serve the community and make an impact, socialize and build bonds with your peers, participate in university-wide activities, gain education on healthy lifestyles, behaviors and resources and network with alumni, university and local community leaders.
Sorority and fraternity membership lasts a lifetime. Once you are an initiated member, you remain a member for life. As such, each inter/national organization has an extensive alumni network. Fraternity and sorority membership provides an immediate connection with thousands of other members. There are many successful sorority and fraternity alumni all over the country who are always looking to hire the best and the brightest that the fraternity and sorority community has to offer. In addition, there are alumni groups or graduate chapters that operate in most cities and metropolitan areas across the country. If you find yourself in a new city, you can start networking with your brothers/sisters in the local alumni group.
To learn more about the specific chapters at UWRF, please check out the FalconsConnect page or send a private message to the Greek Life Facebook page for contact information. 
The best way to learn more about the specific chapters here at UWRF is to check out the FalconsConnect page and contact their current president. This page will provide you with links to each of their FalconsConnect portals with the most up-to-date contact information. Otherwise their Facebook and/or Instagram pages are also a great resource to direct message.
There are mandatory commitments that are set in advance per chapter, such as weekly meetings, philanthropy events and new member education sessions, but beyond that each member can be as involved as they chooses to be. The old saying, "You get out of it what you're willing to put into it," could not be more true when it comes to Greek life.
Absolutely not! Many Greeks and non-Greeks remain close. You would widen your circle of friends and contacts by joining a Greek organization. Joining a sorority or fraternity should not interfere as long as you are committed to your friendships.
Be supportive and learn as much as you can by asking your student(s) questions prior to and throughout their membership. It is important that you understand the financial commitment your student(s) is/are making.
Be an advocate for your student(s) and encourage them to take advantage of all the opportunities their membership in the fraternity or sorority provides. Your awareness and education of their participation allows you to understand their experience, providing benefits to you and your student(s). Your student(s) should never be asked or required to do anything that is in violation of local, state or federal laws, violates the UWRF Code of Conduct or to do anything that would cause them harm.
There will be several opportunities for you to participate in your student's fraternity or sorority such as Homecoming, community service opportunities, awards recognition services, etc. We recommend you take advantage of these opportunities and attend as many events as possible.
Student Involvement
170 University Center
/p>