Library Services
Chalmer Davee Library offers a wide variety of services for faculty, staff, students and community users. Explore below to learn more about everything from our accessibility offerings to how to place material on reserve or request materials from other libraries. Need assistance? We're here to help! Contact us at refdesk@uwrf.edu or 715-425-3321.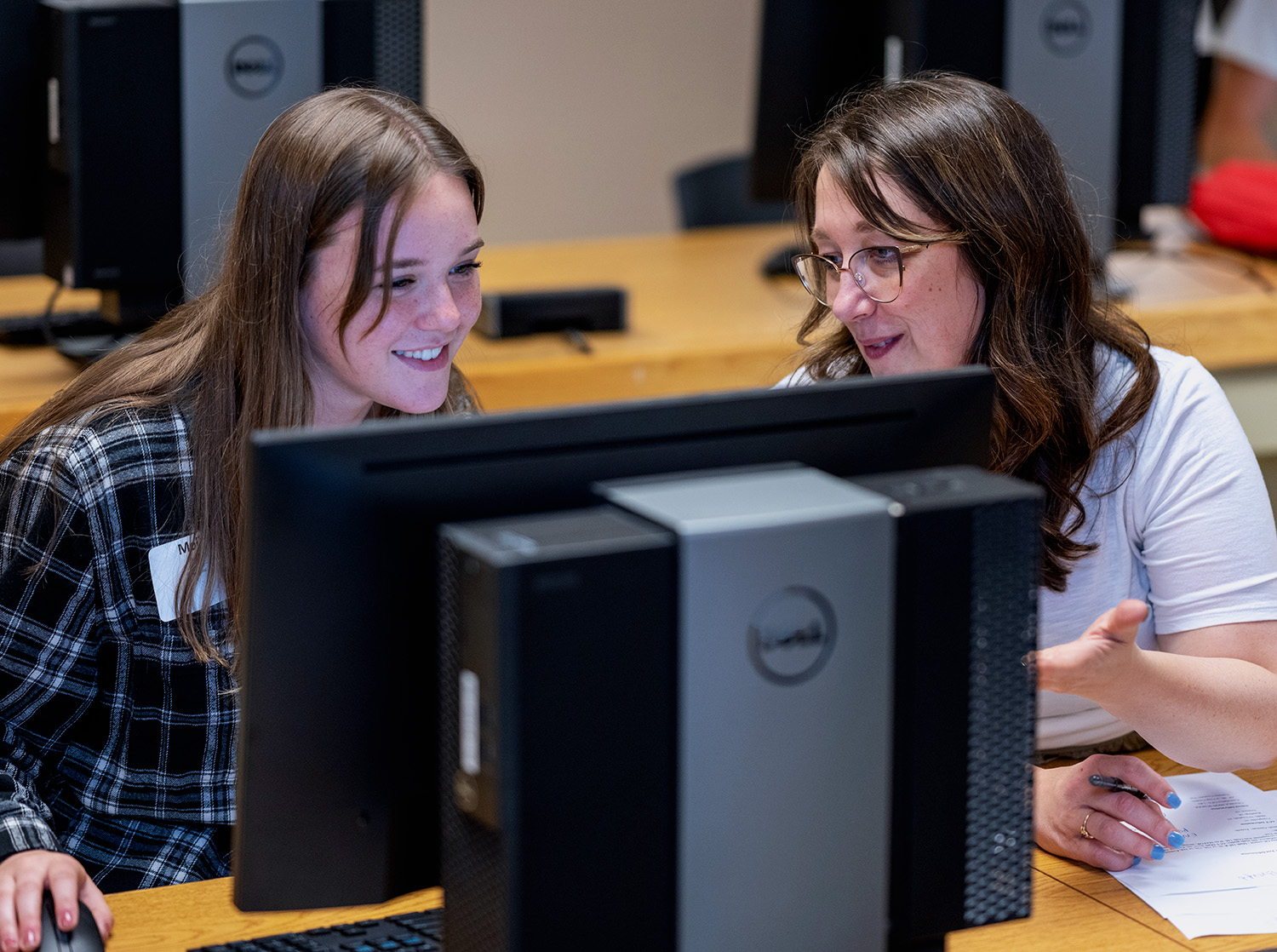 Research Help
We're here to help! Library staff at the Circulation Desk will assist you in locating information or refer you to a librarian for in-depth assistance. Virtual and face-to-face reference sessions are available. 

Fall Semester Research Help Hours:
Monday-Friday, 10 a.m.-3 p.m.
Sunday, noon-3:45 p.m.
 
Research Help hours vary during the summer and intersessions. Library staff can provide basic research assistance at all times the library is open.
---
We will ensure that library users will receive reasonable accommodations in their use of the library.
Services
Individualized library orientation and instruction.
Assistance with the use of the online catalog, with electronic resources and with other information needs.
Retrieval of books and materials. Modifying lending rules on an individual basis.
Acceptance of phone and email requests to check the online catalog to determine if an item is available.
Setting up personal equipment for a study area.
Assistance with photocopying a limited number of pages from library materials at standard patron costs.
Assistance with submitting interlibrary loan requests.
Granting of proxy privileges, which authorize a specified person to borrow library materials for a library user.
Granting special permission to check out non-circulating materials when necessary.
Renewing materials by phone or email.
Working cooperatively with the Disability Resource Center office to provide textbooks for taping and for sign language interpreters and in obtaining large print reproductions. These arrangements shall conform to Textbook Services policies.
Requests for reference assistance may be made by email, phone, on site or by submitting the Ask A Librarian Form.
 
The library currently provides the following accessible facilities and equipment:
Accessible entrances and restrooms
Accessible check-out counters
Elevator access to all levels
Ramp access to all library entrances
Braille numbering and lettering designating restrooms, elevators, and room numbers
Parking for individuals with disabilities near the library
Text enlarger
Accessible study tables and work stations on all levels
Study rooms with equipment for listening to recorded materials
 
More Information
Library staff may refer students to the Disability Resource Center where additional services are available. Please contact Christy Boyer, Access Services Manager, for more information on accessible services in the library.
Materials not owned by the Chalmer Davee Library may be requested from other libraries.  These services are available to UWRF faculty, staff and currently enrolled students.
Request journal articles, audiovisual materials and other items.
Before making a request please verify that the Chalmer Davee Library does not own what you are looking for by checking Search@UW.
 
For assistance with Interlibrary Loan, contact us at 715-425-3321 or interlibraryloan@uwrf.edu
Community users may obtain checkout privileges by purchasing a Community Borrower Card for an annual fee of $20. A current form of ID must be presented and a Borrower Registration form completed. The Community Borrower Card grants access to check out materials from most library collections. For interlibrary loan services community, users should consult their local public library.
Curbside pickup services are available Monday through Friday, 9 a.m. to 4 p.m. by appointment only. Pickups will be scheduled in 30 minute increments. UWRF faculty, staff and students can place holds on UWRF owned items as well as make UW libraries requests through Search@UW.
Items from reserves, journals and reference collections will NOT be available for curbside pickup.
Curbside Pickup Instructions
Login to your Search@UW account with your w# and password and search for the item you would like to pick up. You can access your Search@UW account

here

.

Select the item you wish to request. Under "Get It" and to the right of "Request Options," select "Local Request". Chalmer Davee Library should be listed as your Pickup Location. You may add a comment if needed, but you do NOT need to add your name or contact information.
Click on "REQUEST." This will automatically notify the library's circulation desk of your request. Staff will pull your item(s) and place it on the hold shelf.

You will receive an email at your UWRF email address when your item(s) is ready directing you to call or email the library to set up a pickup time. Call 715-425-3321 or email

circulation@uwrf.edu

.
Please remember to be on time for your pickup appointment.
Questions about curbside pickup? Call us at 715-425-3321 or send us an email at circulation@uwrf.edu. 
All UWRF faculty and staff may use this service to request an item that is currently available at Chalmer Davee Library be intercampus mailed to you.  

Archival materials are not available for this service. 

Items received through interlibrary loan and UW Libraries Request will still be held at the circulation desk for pick up.
---
How To Place a Request
To access this service, log in to Search@UW.
Find the item you want and click on the title.
Under the "Get It" tab select "Local Request."
For Pickup Location select "Work Address" and click "Send Request."
The library will pull the item from the shelf, check the item out to your patron record and intercampus mail the item to you.
Services for Faculty
Librarians to Go: UWRF faculty and staff can arrange to have a consultation with a reference librarian in their office at a convenient time by filling out this reference service request form.
Deliver to My Office Service (See "Deliver to My Office Service" accordion on this page): UWRF faculty and staff can request circulating items through Search@UW be delivered to their office.

Course Reserves and E-Reserves
Course reserve information for faculty (See "Placing Materials on Reserve" accordion on this page.)
Course Reserve Submission Form Complete this form to place materials on reserve.
Librarians meet frequently with classes to introduce students to library research. Any faculty member whose course assignments require the use of library resources, or whose students may be new to the campus or to the research process, is encouraged to schedule a library instruction session. Librarians will provide instruction in developing information literacy skills and applying library research strategies, including the use of basic or specialized research tools in all formats. Instructors are asked to provide librarians with a copy of class assignments or research topics ahead of time.
To schedule a class session with a Librarian/Archivist, please fill out this form: Library Instruction Appointment Form
Library liaisons support teaching and learning through personal interaction with faculty, staff and students in assigned academic departments and administrative units.
Through their outreach work, liaisons determine how the library can most effectively support the work of our faculty, staff, and students. They keep their constituencies up-to-date in regard to new resources and services, provide one-on-one consultation to faculty and staff in their assigned departments, offer to meet periodically with their departments and facilitate library instructional sessions tailored to the specific needs of their departments.
Librarians work with faculty in their assigned departments to obtain relevant materials for the library's collections. They facilitate, review and place orders for library materials that support the curriculum and assess the collection in their assigned subject areas to keep it up-to-date and relevant to the curriculum.
Librarian liaison assignments are:
College of Agriculture, Food, and Environmental Sciences

 College of Arts and Sciences
 
College of Education, Business and Allied Health
Materials are placed on reserve to support current instructional needs. A valid University ID is required to use reserve materials and these items are available for limited use. Failure to return reserve material by the due date/hour will result in a fine.
How to Place Material on Reserve
Faculty and staff need to complete and submit the Library Reserve Request to begin the process. Please provide detailed information on the material required. Send an email to reserve@uwrf.edu if you have questions or need assistance.
Books and Media: Library staff will retrieve books and media from the circulating collection for you. The completed form will supply the needed information. If a particular edition is required, please specify on the form. Non-circulating materials such as reference books, materials from the University Archives and Area Research Center and printed periodicals may not be placed on reserve. Materials from other libraries, items available via Canvas and items that do not comply with the fair use provision (section 107) of the Copyright Law of the United States (Title 17, U.S. Code) are not eligible to be placed on reserve. Materials from the library's circulating collections remain on reserve for up to one academic year, renewable as needed. The library may be able to purchase materials based on the availability of funds.
Personal Property: Faculty and staff may place personal copies of books, DVD's, reports, papers, pamphlets, exams or other instructor-produced course related materials on reserve. The library will assign call numbers and place labels on such items. The library is not liable for theft, damage or mutilation of personal copies placed on reserve. Once the reserve period has expired, these materials are withdrawn from reserve and will be returned.
Extended Reserve: Materials placed on extended reserve remain active longer than one academic year. The library may purchase additional copies to support this type of instructional need. The library should be given adequate notice on orders for extended reserve, generally at least one semester before they are needed. Textbook Services works with departments to ensure that solution manuals and study guides for editions in use are available in the reserve collection. Departments authorize the placement of solution manuals and study guides.