Break a Sweat
Campus Recreation offers a variety of group fitness classes to help you Find Your Fit. Classes are included to all members with access to the fitness center (student membership, monthly membership, or day pass).  
The class schedule might change from week to week. Download the Campus Recreation app to get up-to-date notifications on class changes. Classes are frequently taught by students without certifications as a part of their educational experience. 
Grab a friend, join a class and break a sweat!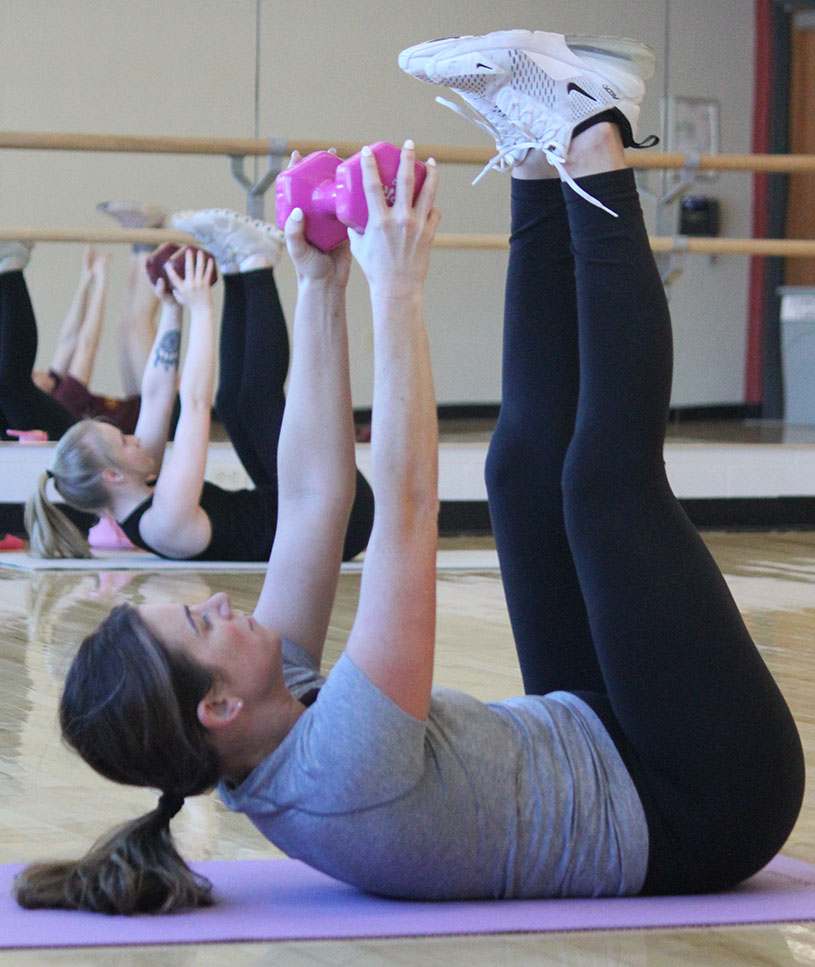 ---
Class Descriptions
Explore below and click the + button to read a description of each class. Class offerings are subject to change. 
This is a 75-minunte cycle class with movie entertainment. Immerse yourself in this lower body, cinematic cardio workout.
Balance training is a great way to increase coordination and use muscles you didn't know you had! We will perform a variety of cardio and strength exercises to increase heart rate and get a total body burn.
Tone up from head to toe and everywhere in between with this high intensity class. This class style includes circuit training as well as strength training with all types of equipment, followed by restorative stretching at the end.
A combination of flowing yoga poses and therapeutic stretching geared to increase your fitness and flexibility.
A conditioning class focusing on the core in a circuit interval training style. Using all types of equipment, such as a large resistance ball, medicine ball, dumbbells, bars, etc.
High-energy cardio-fitness class that is designed for anyone, no matter your ability level. The class features styles of cardio work, aerobic, intervals, HIIT and more. Come experience a fun, effective workout that will keep you coming back for more!
A cycle class with intermittent strength and conditioning moves at an interval pace.
Class entails multiple on-bike exercises, focusing mostly on legs, while including some arm, back and core strength. We use no weights and stay on the bike for the whole ride. Jam out to some great music and get a great workout in!
Through a variety of simple, yet intense, exercises this circuit style training class will blast the calories and provide a great workout. Whether your goal is muscle tone, weight loss or both, this class will help you feel fit.
We will use foam rollers to release tension and increase mobility throughout the body, as well as use it as a stability challenge to increase core strength. A great way to get in an active recovery day!
This class is an introduction to learning strength and conditioning moves that will allow you to move forward with advanced workouts. This class requires registration and an additional fee. Dates may vary - please look at our website for more details!
In this mat class we focus on moving the spine in all directions and stabilizing through the core. Pilates is a great addition to any exercise program because it is flexibility and mobility focused.
We use dumbbells to work out lower body, upper body and core in an interval style!
This class focuses on strengthening and toning all muscle groups. This class will use a variety of equipment including dumbbells, bars, bands, exercise balls and more.
A complete workout that combines both aerobic and strength (resistance) training.
Mixed level vinyasa flow style yoga this class welcomes everyone from beginners to practiced yogis. We focus on strength, toning, balance and mind and body wellness in a safe, judgement-free space.
This intense yoga class involves moving through poses and linking movement with the breath to build flexibility, while also working on strength and cardio endurance. Mats available if needed.
Campus Recreation
185 Emogene Nelson Ave.
A105 Falcon Center
River Falls, WI 54022
/p>